The issue of divorce is possibly one of the most debated issues in the church, and it was an issue that Jesus did not overlook either. In reality the purpose of marriage should be "until death do them part" but it is increasingly seen with more normality even within the church to see marriages being destroyed by various causes.
This time we will talk about an American Christian singer Le'Andria Johnson, who has already had to divorce twice. She says that her first divorce was due to she being too young, since she married only 20 years old, and due to her young age, she had not made a correct decision.
By her second marriage, she was in trouble with alcoholism. Speaking about her second husband and her problem with alcoholism she said: "I was drunk when I met him, I was drunk when I married him, I was drunk when I left him".
Le'andria Johnson's problem with alcohol was so bad that she was arrested for drunk driving and spent 30 days in jail. La'Andria's statement of her on her second divorce of her on social media says:
This woman right here is not perfect!!!! This woman right here has and will make mistakes!!!! This woman right here is now divorced!!!! Yes you heard it!!!! This woman right here is currently working in the studio for her new album!!!! This woman right WILL BE ALRIGHT!!!!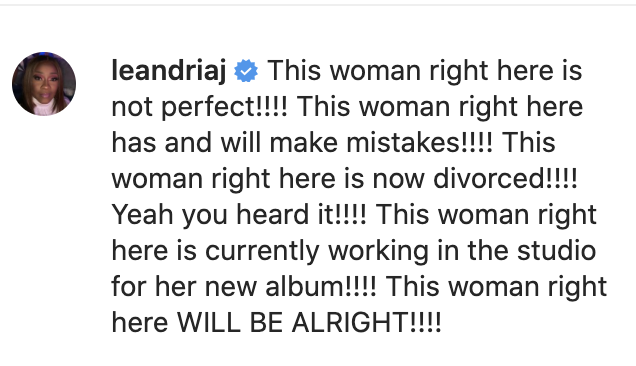 Pray to God to keep families together and divorce be no longer seen as normal even in our churches.