Renowned Brazilian Christian singer Aline Barros has been nominated and awarded throughout the years of her career. In the years 2004, 2006, 2007, 2011 and 2012 it has represented the best album of Christian music. And this 2020 is a reason for celebration for the artist alike, since she has won a new Latin Grammy with her album Reino.
Aline Barros expressed her feelings and thanks through her Instagram account:
My heart is immensely grateful, with all that God did through this incredible project that was the Reino album.

All the songs that were released, were able to bless and continue to bless so many lives! It is a privilege to be able to be a voice for the kingdom of God.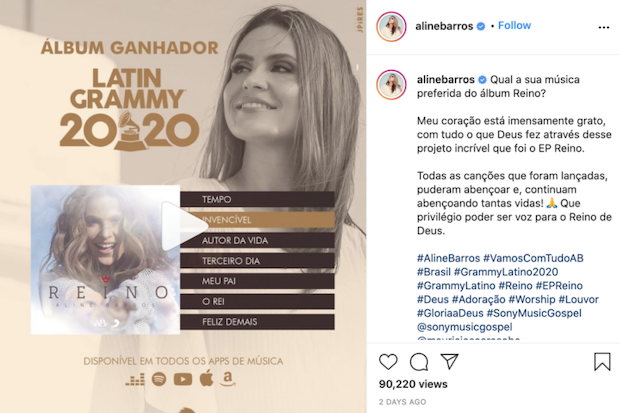 It should be noted that Aline Barros has produced music in Portuguese, English and Spanish and has remained one of those voices that have influenced thousands of people around the world.
The album Reino has 7 songs in the Portuguese language and one of their songs, "Autor da vida" already has more than 25 million views on YouTube.
Next we leave you the album Reino from Aline Barros available on Youtube, so you can enjoy this good music: