Recently Marty Sampson, composer, musician and singer had made a post on Instagram that apparently announced that he was retiring from Christianity.
After many Christian media published this news as "Marty Sampson renounced the Christian faith", the singer responded to an article by Christian Post claiming that "he did not renounce his faith, but is on shaky ground, struggling with many parts of the belief system that seem so inconsistent with common human morals". We quote his words below:
I have and continue to analyze the arguments of prominent Christian apologists and biblical scholars and I am open minded enough to consider the arguments of atheist debaters and debaters from other religions. If the truth is true, it will remain so regardless of my understanding of it.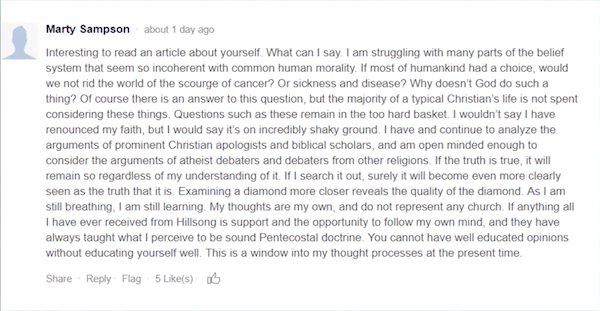 In the reply to the Christian Post article entitled "Reaching out to a Hillsong leader who is renouncing his faith", Sampson asks why God does not rid the world of cancer and other diseases, and says that there is an answer to that question but that "most typical Christians do not spend their lives considering these things". He goes on to say that there are more questions like these, but they are put aside.
In the end, he unlinks Hillsong from the concepts issued by him, saying that those opinions are his own and do not represent any particular church. He says he has received support from Hillsong and the opportunity to follow his own mind, and that he has been taught what he perceives as a sound Pentecostal doctrine.
What do you think about this? Leave us a comment.